Corona Virus Ki Dua - Dua for Corona Virus
Dua is among one of the most powerful and effective acts of worship. It gives the feeling of connection with Allah in any place at any time. Muslims call on Allah several times throughout the day and night. Throughout the Holy Quran, Allah encourages people to call on him as he is the only one who can lay our uncertainties, hopes, dreams, and fears. It does not just enhance the feeling of closeness with Allah, but also raises faith and offers relief and hope to believers. There is a dua for almost every act in Islam. The Holy Prophet Muhammad (Peace Be Upon Him) taught the dua to his Ummah for different matters such as safety, family, food, travel, sickness, dressing, etc. However, the Coronavirus Ki Dua (Corona Se Hifazat Ki Dua) is among the key supplications. Being Muslim we should memorize duas including the Coronavirus Ki Dua (Corona Se Hifazat Ki Dua). It will not just save us from any harm but will enlighten our lives with different blessings. Here, you can easily read this dua and can share it with your friends and family members. You can also read other supplications on their respective pages.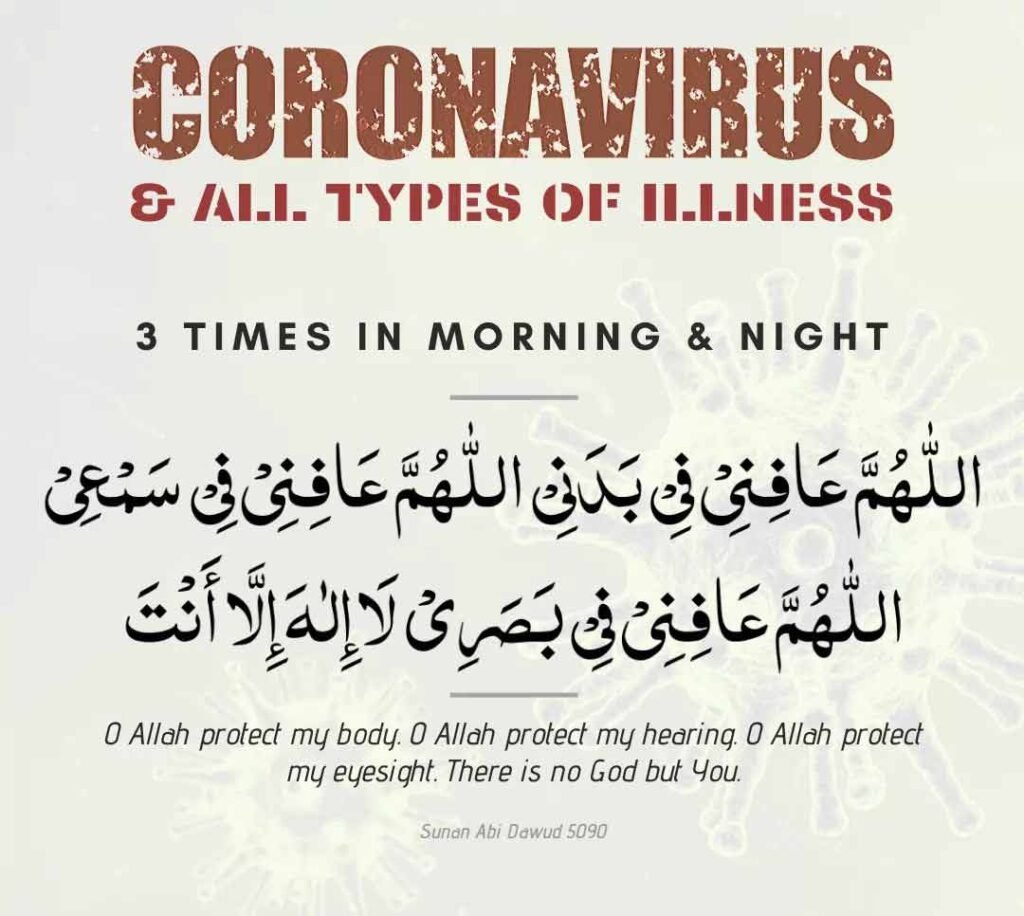 Dua For Coronavirus – Protection From Coronavirus – Dua for protection from illness and disease – Dua for leaving the house – Dua for sickness – Dua for fear and anxiety – Dua for protection of family from every evil
Protection from Coronavirus – Covid-19
Use a face mask.
Avoid shaking hands.
Use hand sanitizer.
Keep distance while going out.
Avoid gatherings and keep yourself away from crowed.
Avoid touching your face without washing hands.
Avoid ordering food from outside.
Eat healthy foods to keep your immune system working.